You're driving along and your low tire pressure indicator light comes on. You address the problem by filling up your tires to their recommended pressure, but the light just won't turn off after you have driven for a bit. This is a common issue that some Honda owners experience. When you inflate your tires after being alerted they are low, you have your tires rotated or your tire changed, your tire pressure monitoring system will require recalibration. Keep in mind, your vehicle will need to drive for about thirty minutes before the light will go off. Let's take a look at how to complete this process.
The Calibration Process for New Honda Vehicles
If you have a newer model of vehicle that comes with a touchscreen infotainment system, you'll need to follow this process:
Access the home screen of your infotainment system and select 'Settings'.
Select the vehicle you are driving.
Select the 'TPMS Calibration' feature.
Select 'Calibrate'.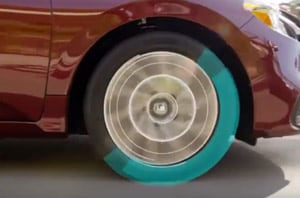 The Calibration Process of New Honda Models Without a Touchscreen
If you have a vehicle that does not come with a touchscreen display, this is the process you will need to follow:
Use your steering wheel controls to enter into the driver information settings.
Select 'TPMS Calibration'.
Select 'Calibrate'.
Select the 'Initialize' feature and hit 'Yes'.
Press the 'Menu' button to exit.
If you have an older Honda model, you may have a TPMS button that is located directly to the left of the steering wheel. You will need to press and hold this button until the warning light blinks twice. You can also check your owner's manual for additional information pertaining to your specific model. If you are still having trouble calibrating your Honda's tire pressure system, stop down to our Bell Honda service center. We'll be happy to show you how the process is completed.