2011 Honda Civic Introduction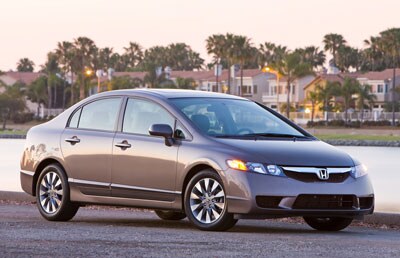 The Honda Civic is a benchmark in the compact class, noted for its reliability. A wide range of models is available. They're easy to drive, with ample windows that provide outstanding outward visibility.
We found ride quality in the Civic solid but not overly firm, with less road noise and wind whistle than is common for the class. The stiff chassis gives the Civic a solid and planted feel, with impressive stability and responsive steering, while the relatively long wheelbase smoothes the ride. Inside, the Civic is pleasant, attractive and inviting. Bluetooth and navigation are available.
Safety features include side-impact airbags as standard equipment. Vehicle Stability Assist electronic stability control comes on the Civic EX-L, Hybrid, and Si models.
The 2011 Honda Civic comes in coupe and sedan versions. Civic DX, LX, and EX models share a 140-hp, 1.8-liter four-cylinder engine with a choice of 5-speed manual transmission or 5-speed automatic. We found the Civic LX sedan the most comfortable model. The DX is relatively basic, while the EX is more plush.
The sporty Civic Si coupe and sedan share a 197-horsepower engine, 6-speed manual transmission, four-wheel disc brakes, and supportive sport seats.
The Civic Hybrid sedan is powered by a 1.3-liter four-cylinder engine coupled with a permanent magnet electric motor and a continuously variable transmission. The Hybrid model features dramatically reduced emissions, and it delivers an EPA-rated 40/43 mpg City/Highway.
The Civic GX sedan uses natural gas for fuel. Natural gas is available to residents of California, New York, Utah and Oklahoma and is used by fleets elsewhere.
For 2011 the Honda Civic line remains essentially unchanged. Its styling was last freshened in 2009, after a total redesign for the 2006 model year.