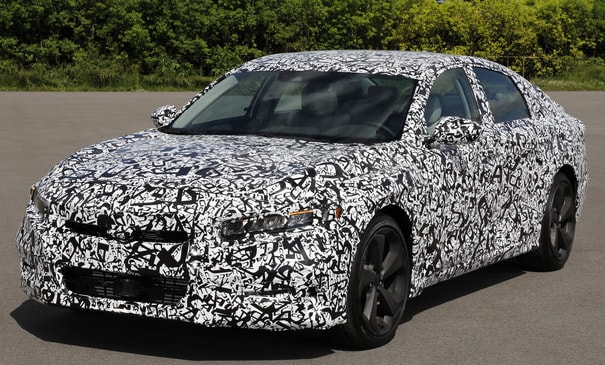 This year, Honda will launch one of the most stylish and aggressive stances on the Accord. Powered with a strong punch, the sedan's brand-new design is complemented by an all-new lineup of powertrains. Featured are three powerful and fuel-efficient engines, including two direct-injected and turbocharged 4-cylinders.
The 2018 Accord will star a high-torque 1.5-liter direct-injected DOHC Turbo engine with dual variable cam timing (dual VTC), which can be paired with your choice of a Honda continuously variable automatic transmission or six-speed manual transmission. Or if you want more power, try the new 2.0-liter direct-injected DOHC Turbo with i-VTEC valvetrain that's joined with an all-new 10-speed automatic transmission.
On the 2.0-liter engine and next generation of Honda's two-motor hybrid, the new Honda-developed 10-speed transmission will help optimize fuel economy. It's also notable because the auto industry has never before seen a 10-speed automatic transmission on a front-wheel drive car.
The new transmission will be built at Honda's Tallapoosa plant in Georgia, while the new turbo engines will be produced at the company's engine manufacturing facility in Anna, Ohio.
"With three advanced new powertrains, the 10th generation Accord will be the most fun-to drive, refined and fuel-efficient Accord yet," stated Senior Vice President America Honda Motor Co., Inc, Jeff Conrad.
Find the new 2018 Honda Accord for sale in Phoenix this fall! If you're curious about the outgoing model, see our 2017 Honda Accord review and check out our current selection of Accord models online.