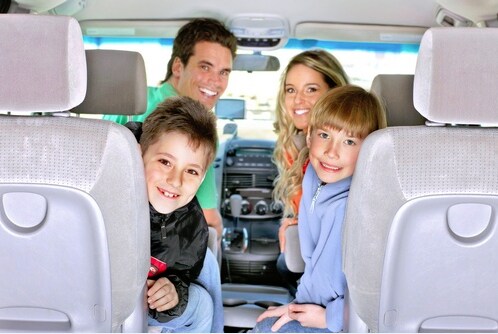 Summer is coming up, which means it may be time for a road trip! Driving long distances can be taxing on your car, so it's important to make sure that it is in top condition as you set out on a trek. Follow these tips to make sure your car is as ready as you are for your next family adventure.
Six Tips for a Pre-Road Trip Check Up
1. Wash Your Car
This is the simplest step to prep for your trip. Your car is about to be hit with dirt and bugs for hundreds of miles, but with a clean slate, this new grime won't be building up on old dirt.
It is especially important to wipe down your windshield and windows, as clean windows increase your visibility. When cleaning them, be sure to use an ammonia-free cleaning solution.
2. Check Out Your Tires
Tires are vital for your road trip. During a long drive, your tires are receiving a lot of wear and tear, so it's important that they are in the best condition as you set out.
First, check your tires' air pressure. If you have noticed that your tires keep losing air, it may be time for a repair or replacement. Be sure to also check the quality of your spare tire. You don't want to be stuck with a flat tire and an old, unusable replacement.
Next, do a tread test. A simple way to check out the tread of your tires is the Penny Test. Place a penny with Lincoln's head down in the grooves and if his head is uncovered, it may be time for a replacement.
Finally, get your tires serviced if you haven't visited our Bell Road service center in a few months. A rotation, balance and repair will keep your tires in good shape during your trip.
3. Top Off Your Fluids
All the fluids in your car keep it running smoothly. Gasoline isn't the only important liquid. Check the levels of your oil, coolant, brake fluid and power steering fluid, and, if necessary, bring them in to have one of our service technicians top them off. Getting an oil change is also important if you haven't had one in a while, especially if you have driven more than 3,000 miles since your last service visit.
4. Check Your Lights
Ensure all of the lights and signals on your car are fully functioning. Properly working lights keep you and your passengers safe. It may also be advisable that you carry some spare bulbs in case of an emergency.
5. Test Your Brakes
Like your lights, brakes are vital for safety. Malfunctioning brakes could spell danger for both you and others on the road. Before you embark on a long trip, it is important to check your brakes.
Along with checking the brake fluid, try to detect any other problems, also check for other signs of aging or failing brakes. If you notice any of these symptoms, it's important to get them serviced.
6. Put Together An Emergency Kit
Build an emergency kit for your trip, which includes items like emergency tools, jumper cables, a flashlight and a first aid kit. An emergency kit can get you out of a bad situation, so don't forget this vital piece of pre-road trip gear.
For a comprehensive pre-road trip car inspection, schedule an appointment at the service center at our Phoenix dealership.