The Honda Passport is a newly released SUV that boasts a rugged exterior and impressive performance for the modern driver. As a first-generation model, the car takes a few risks to become competitive and successful in its class. There are a few facts to learn about how Honda is bringing back the passport for 2019.
Safety is a Top Priority
The most advanced safety features and driver aids are included in the 2019 Honda Passport to reduce the risk of an accident. Drivers can take advantage of a road departure mitigation system, lane keeping assist system, adaptive cruise control, and a collision mitigation braking system.
A Versatile Cabin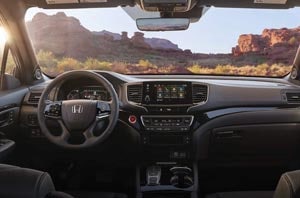 The SUV's cabin is designed to be versatile to ensure that the car can serve many different purposes. Hidden storage compartments are available in the back of the cabin where backpacks and purses can be stored under the floor in a discrete location. Apple CarPlay and Android Auto offer smartphone integration to play music from your devices while spending time in the car. The Honda satellite navigation system provides convenience and accommodation while taking different routes to your destination. The back seats also fold down with a push of a button to increase the amount of cargo space that is provided. The back of the seats are constructed out of plastic to ensure that they can be wiped down should they become dirty or covered with mud.
Five people can fit comfortably in the cabin with an ample amount of legroom that is available in the front and back seat. Tall passengers can fit comfortably in each row and stretch out.
It Features a Rugged Exterior
The 2019 Honda Passport is created to stand out as an SUV that is rugged and masculine. The car looks like it's built for outdoor adventure with black accents that add a touch of edge. Gloss-black wheels, roof rails, and oversized headlights make the car stand out on the highway. An oversized black grille blends in with the headlights and creates a modern vehicle that still manages to look rugged.
Impressive Performance
A high level of performance is offered with the Honda Passport with all-wheel-drive provided to keep the SUV glued to the ground, whether you're driving on your commute or are off-roading. 70 percent of the power is sent to the rear axle, which prevents the car from hydroplaning on slippery surfaces. The nimble handling allows it to be the ideal car to drive when you want to tackle different driving challenges. An extra one inch of ground clearance is also provided, which makes it easy to drive on different types of roads and terrain.
A Variety of Features
The Passport doesn't compromise with the number of features that are provided to ensure that the driver is accommodated while on the go. You can take advantage of features that include three-zone climate control, wireless device charging, standard 20-inch wheels, adaptive cruise control, an eight-inch touchscreen, and Apple CarPlay and Android Auto. The car has a significant amount of value for its price tag with the most in-demand features that come standard without having to pay more for extra bells and whistles that are available as upgrades on competing vehicles.
If you want to learn more about the new Honda Passport and what it offers to consumers, feel free to contact or visit our dealership today to speak to one of our team members. We're here to assist you with scheduling a test drive or explaining our financing options that are available at our location.