About Bell Honda Civic Reviews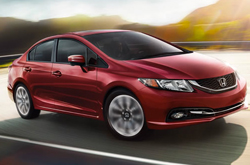 The compact car class is crowded. So when there's a standout, a car that's always ranked one of the best of the pack year after year, out of nearly 50 available vehicle models, it's something to pay attention to. This describes Civic's leadership in the compact class. It's a perennial favorite among auto journalists, and here's why they favor it:
First there's efficiency, a strength many compact cars have, but Civic stands out with fuel economy ratings that are near the top of its class. Gas models get up to 35 mpg combined according to the EPA's 2015 fuel economy data, and that number goes up significantly if you choose the Civic Hybrid or Natural Gas models. Test drive the 2015 Honda Civic in Phoenix and see for yourself just how little gas it uses per mile.
Critics also pretty much never fail to mention Civic's high safety scores. As a compact car, some might think it won't offer great protection in an accident, but its excellent safety scores say otherwise. To prove our point, both the Civic coupe and sedan are IIHS Top Safety Picks (TSP), because of their excellent crash test performances.
In addition to these and other notable attributes, many of which we haven't yet listed, a bit of exciting news has come up in recent 2015 Honda Civic reviews that you should know about, and it's another reason why Civic is one of your top choices among compacts, especially if you're the type who believes that variety is the spice of life.
This year, the lineup debuts an SE sedan. Already incredibly diverse, with coupes, sedans, hybrids, CNG models and several trim levels to choose from, the Civic lineup is further expanded with a new four-door that slots in between the two base trims. If you enjoy having many options to choose from, you'll have fun selecting a 2015 Honda Civic in Phoenix, Arizona.
To wrap up, we'll throw in a few more reasons why Civic is a top pick in its class, and why some 2015 Honda Civic reviews even call it your No. 1 choice: It's a car that packs in plenty of features for a low cost; a compact that doesn't skimp on interior comfort or spaciousness; and a car with a composed performance that soaks up road bumps. Edmunds.com experts also say it has a "commendable" continuously variable transmission that's quiet and easy to shift, unlike some CTVs.
We could go on and on, but instead invite you to Bell Honda, where you can learn more about all of Civic's benefits firsthand!