Click play on this fun and informative video to discover the many benefits of regular oil changes!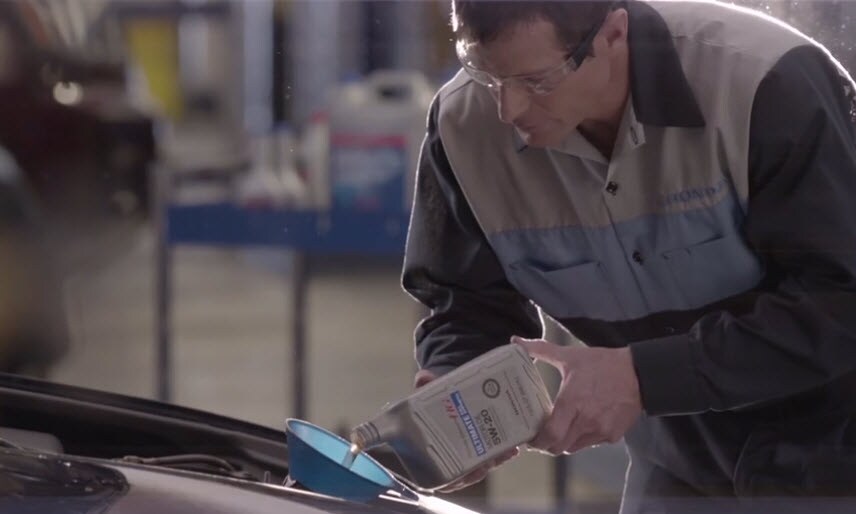 An oil change isn't the most exciting thing on your to-do list, but it is one of the most important! Routine oil changes keep your Honda car happy and healthy, ensuring the engine continues to run smoothly. Best of all, you don't even have to do it yourself--just schedule an oil change service appointment online at Bell Honda, and let our certified service technicians do the work for you.
Where Can I Find an Affordable Oil Change Near Me?
When you are looking for an oil change center in Phoenix, Arizona, make our service center your first stop. There are a lot of auto repair shops that perform oil  changes, but not all of them provide the best customer service or use quality engine oil and filters. Our Honda-certified service technicians are some of the  best and friendliest in the business, and have years of experience performing  many services, including oil and filter changes, on all makes and models.
You'll also notice a difference in the products used and the reasonable pricing offered at our Honda dealership. We use Honda Genuine Oil and high-quality filters to get you the most protection for your engine. We also have an oil change coupon to get you an affordable price on this vital service--be sure to print it off before your appointment!

If you're looking for fast and affordable Honda oil change service in the Phoenix, Arizona area, come to Bell Honda. We hope to serve you soon! Click to schedule service below and check out current Honda service coupons to see if there are any current oil change specials.
Why Do I Need an Oil Change?
Oil is essential to your engine's overall health and performance. It keeps the many moving parts inside your vehicle lubricated, and prevents corrosion and overheating from occurring. However, if continuing to drive without having oil changes at your vehicle's recommended intervals, you might start to experience some problems. Over time, engine oil gets dirty as it picks up particles and debris, making its ability to keep engine parts properly lubricated to reduce friction less effective.

How Often Does My Honda Need an Oil Change?

When you get regular Honda oil change service at our dealership, you'll get the most life out of your engine, as well as higher gas mileage and better performance. How often you need to get your oil changed depends on your vehicle and driving conditions. If you own a newer model Honda, your car will be equipped with a Maintenance Minder feature that will tell you when your oil is due to be changed. In addition, you can consult your Honda owner's manual, which features a recommended maintenance schedule, or contact us at Bell Honda. Our service technicians can help you determine if it's time.

Service Hours
Monday

7:00 am - 6:00 pm

Tuesday

7:00 am - 6:00 pm

Wednesday

7:00 am - 6:00 pm

Thursday

7:00 am - 6:00 pm

Friday

7:00 am - 6:00 pm

Saturday

7:00 am - 5:00 pm

Sunday

Closed