Properly maintaining your car's tires is one of the most important aspects of overall car care, ensuring not only that your vehicle continues to run well, but that it also stays safe for both you and your passengers. Take a look below to see a few facts about tire service, as well as a few symptoms you should look out for if you think your tires might be in need of a little TLC.
Honda Tire Service: Fact & Figures
Like everything from oil and filter changes to battery checks and replacements, it's vital to keep up-to-date on your tire maintenance. According to most car service experts, drivers should come in for tire rotations and alignments at least once a year, though if you drive more than 10,000 miles a year, you should probably come in more frequently.
Drivers should also check tire pressure on a monthly basis so that they know right away if one of their tire's PSI is getting a bit too low. If you drive a new Honda car or SUV, your vehicle probably has a Tire Pressure Monitoring system, so be sure to head over to Bell Honda's Phoenix auto repair shop to have our certified technicians top off your air if this innovative system alerts you to a problem.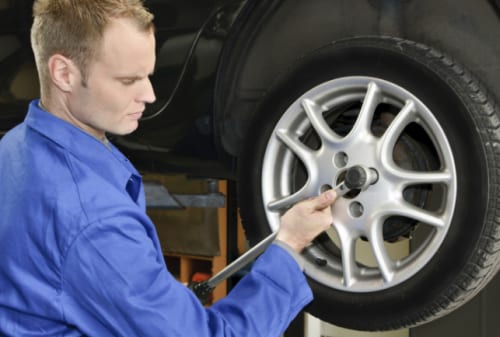 What Are the Symptoms of Tire Damage?
There are many signs that your car might be in need of service, including:
Bulges in the tire's sidewall
Cuts in the tire's rubber
Bubbles in the sidewall
Even "wear bars" on your tire
Feeling vibrations in your car's steering wheel
If you notice any of these symptom, you need to bring your car in immediately, as all of these signs may indicate future tire failure. This is even more likely if you are traveling at high speeds (say on the interstate on your way home from work) or on a wet roadway (during or after a rainstorm), when roads are more precarious and a blowout is more likely.