You rely on your Honda regularly to provide you with safe, dependable transportation. While Honda vehicles are well-known for overall quality, drivers must do their part to properly maintain their vehicles as recommended by the manufacturer. One of the more important maintenance services that may be easy to overlook is transmission service. Transmission services are not recommended as frequently as oil changes or tire rotations, but they serve an essential purpose. Your Honda transmission plays the vital role of controlling the power and torque output of the engine. You can see that it can be a true hassle to deal with transmission issues in your Honda. The good news is that following your vehicle's maintenance guidelines for the transmission can help you to steer clear of major breakdowns related to this component. Our service team is ready to complete quality for all transmission repair and maintenance work needed on your vehicle.
What Type of Honda Maintenance Service Is Recommended?
Heat and friction are damaging forces in a transmission, and transmission fluid is responsible for moderating these forces. As you cruise around in your Honda, this fluid will increasingly get dirty. This decreases the effectiveness of the fluid and places the transmission system's components at greater risk for damage. Changing or flushing the transmission fluid in your Honda is critical in order to keep the system functioning properly. The frequency of recommended service varies by model and vehicle age, so always consult your owner's manual or one of our technicians for specific transmission service recommendations for your Honda. It is generally realistic to complete a transmission fluid service every 30,000 to 45,000 miles or between each two to three-year period.
What Is Involved in a Transmission Fluid Service?

If you have never had your transmission fluid changed or flushed, you understandably may not know what to expect. A fluid change and a fluid flush are two very similar services, but a closer look will reveal an important difference that you should be aware of. Flushing the transmission fluid means that all transmission fluid is removed from the entire system, including in the pan, in the cooler lines and in the torque converter. New fluid is supplied to the system, and the transmission filter is replaced. When your Honda receives a transmission fluid change service, the fluid in the cooler lines and torque converter is not touched. The filter is replaced, only the fluid in the pan is replaced. This usually accounts for approximately half of the total transmission fluid in the vehicle, but this varies based on the model. A complete flush may not be necessary if your transmission has been serviced recently and if you regularly schedule recommended services. On the other hand, if the fluid is thick and dark, a flush may be beneficial.
Does My Honda Have Transmission Damage?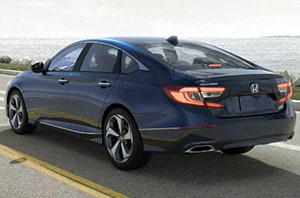 While many Honda owners contact us with maintenance service requests, some have concerns about potential damage under the hood. Some of the signs of transmission damage that you may notice include bumpy or jerky movement when the car changes gears, the engine light illuminated on the dashboard, visible signs of a fluid leak and possibly the smell of something burning when the engine is on. Transmission issues can be serious. If you believe that your transmission is damaged, now is the time to contact us for a diagnostic and repair appointment.